In the last month, a few TestFlight pre-release builds happened. I've documented all 38 Shortcuts actions in the new Actions Library (part of the brand-new Knowledge Base!). I've implemented the payment and licensing! Then there were a few rounds of the fabled App Store review process! Very exciting.
Oh, and also …
It's Launch Day on macOS! 🚀
Actions for Obsidian v1.0 is finally here! Get it from the Mac App Store or read on to learn more. Or check it out right now, then come back and read the rest. Or read this newsletter, then visit the App Store. (My point is: please do check it out, thanks.)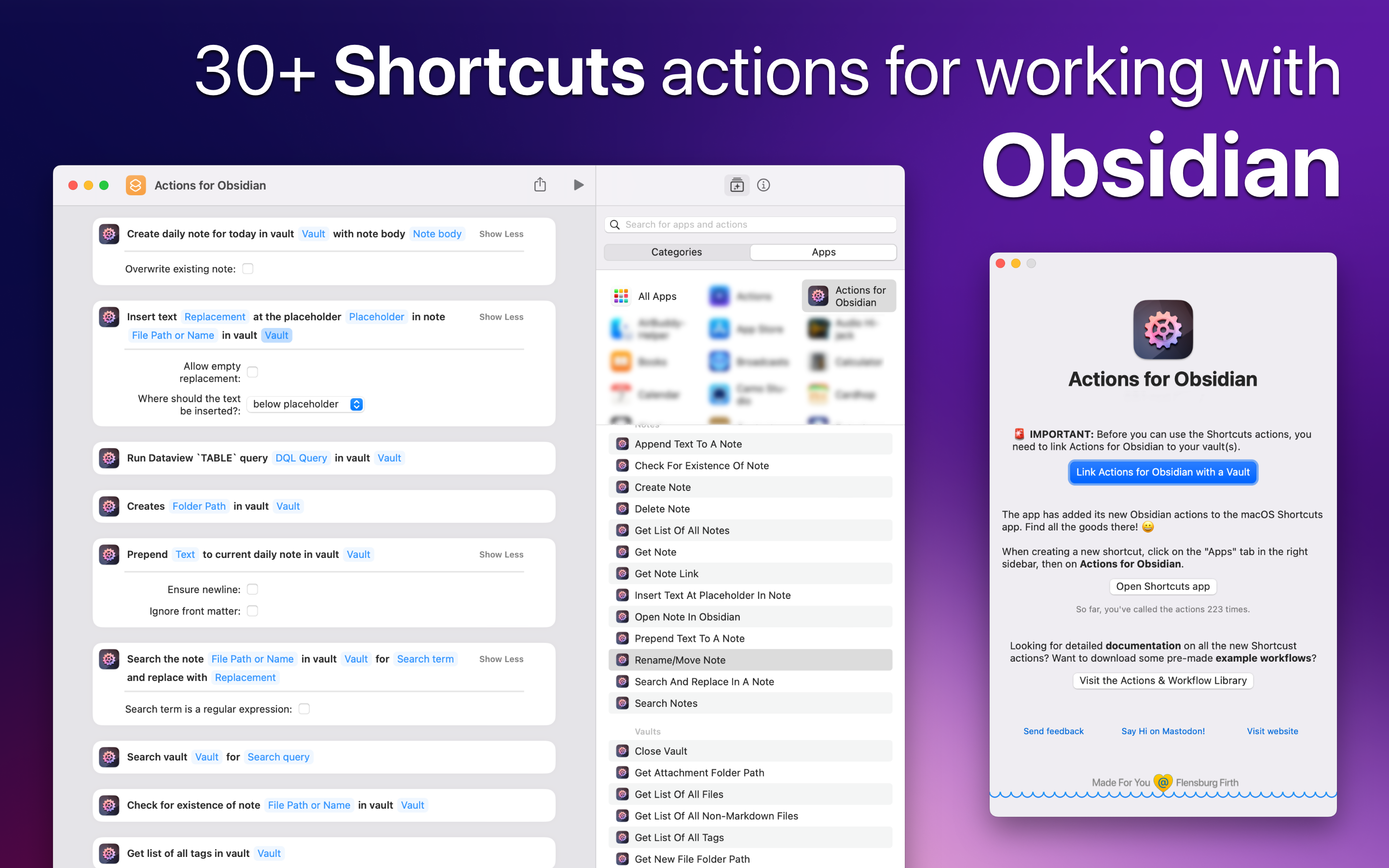 How much does Actions for Obsidian cost?
The app is free to download from the Mac App Store. There is a 14+ day trial period. After the initial trial period, the Shortcuts actions will trigger "Please buy" reminder dialogs.
A license removes these reminders.
You can choose one of three price levels depending on how much you think is fair:
"S" (€11 / $9)
"M" (€14 / $12)
"L" (€17 / $15)
These licenses differ only in price.
It's an experiment in fairness, basically. For example, I hope that if you use Actions for Obsidian in a commercial setting, you consider buying the "L" license. Or even if it's for personal use, and you feel it makes you 5× as productive, you might select something else than the "S" level. It is entirely up to you, though.
Available …World-wide?
Almost. The app is available in 174 out of 175 App Stores — I know it's merely a symbolic gesture, but I've excluded Russia until they stop their unprovoked war against Ukraine.
Слава Україні! 🇺🇦🖖🏼
What's next?
I am currently researching actions for working with front matter and for dealing with Obsidian Sync. And it's probably a safe bet that a bug or two will pop up — if you find something weird or need help, just open the app and click the "Send Feedback" button or the entry in the Help menu.
But first, I want to get the iOS version ready for TestFlight. Stay tuned!