[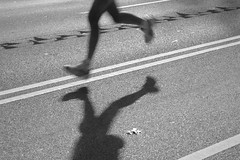 ][2]A week ago, during the day, my left lower back and leg started to hurt. Each step I made stung, and it didn't get better. I couldn't think of anything I had done; I didn't fall, trip or twist my leg. I had just run in the morning.
On Thursday the pain was still there, so I've consulted a doctor. She told me to stop running on asphalt the pavement, because no matter how good the shoes, the ground in itself is too hard, too solid, too inflexible. So what I've done, in effect, was messing with my joints and cramping up my muscles. I was given a shot and the task to find a better route for running, preferrably something like forest roads.
Splendid.
Anyways, it's Monday now, I haven't been able to run for a week by now, and this sucks. I'm sitting around, actually craving to log a few kilometers. Which feels a bit weird because three months ago I didn't even think about running.
Damn.
[2]: http://flickr.com/photos/34127470@N00/92967452 (me myself and I on the road, (c) Flickr user adropp)